Now more than ever, it's crucial for communists to not only be well versed in theory but also cultured. Attention must be given to propaganda, agitation, and ideological work via art. Perhaps no other artist channeled the feel of the times into such renowned communist art as Lu Xun, who created rousing, entertaining, and accessible works which continue to inspire today.
Early Life
Born into a wealthy family only a few years before their fall from grace, the life of Lu Xun in many ways mirrored the experience of his generation, as well as the history of China itself. During his childhood, Xun's father and grandfather, both civil servants, were caught and nearly sentenced to death for bribery, beginning a downward spiral which would drive his father to drink, smoke opium, and eventually die having squandered much of the family fortune. Once moneyed and respected, they suddenly found themselves ostracized by their neighbors and without adequate means in a rapidly worsening economic and political climate.
Sick of China's declining feudal society and angered by the inability of traditional medicine to cure his father, Xun enrolled in Sendai Medical School in Japan to study western medicine in 1904. It was here he discovered his passion for literature. Reading and discussing with friends in the book stores of Sendai, Xun found himself unable to ignore the turmoil in his home country, drawn to matters of national liberation and ideological rejuvenation. He idolized authors from oppressed countries, with a particular fondness for the Polish and Hungarian poets Adam Mikiewicz and Petofi Sandor. Xun quickly realized that no medicine could save China if it remained politically and ideologically backward. Barely two years after enrolling, Xun dropped out of medical school to begin his literary career. This was motivated not by artistic passion but from a burning desire to awaken the Chinese people.
Despite such lofty ideals, Xun was chronically in need of money and so his aspirations were initially uninspiring. Joined by his brother, Zhou Zhouren, the two worked to translate and publish an anthology series of eastern European fiction but without much success. Only two volumes were ever completed, and less than fifty copies were sold in total. The failure of Xin Sheng, a student magazine he became involved in, marked the beginning of a twelve year hiatus wherein Xun would write not a word.
During this time, he returned to China to be married. Though he did not love or even know his bride, Zhu An, an illiterate woman with bound feet, he felt obligated to please and serve his widowed mother. As his wife, An loved her husband deeply and cared for her mother-in-law dutifully. Xun respected and trusted her but never returned her feelings, eventually returning to Japan and beginning a relationship with his true love, Xu Guangping. (Despite all this, it's interesting to note that he continued to send money to his wife up until his death; as did Guangping afterward.) In 1909, he returned to China yet again to teach at Zhejiang Normal School, eventually earning a position in the Ministry of Education. He also studied numerous subjects during his hiatus with a focus on literature.
Writing
Though he certainly made professional achievements, his once great dreams were all but forgotten. Only when urged on by a comrade did Xun finally write his first original story in 1918. A Madman's Diary, written as the journal of an ill and paranoid farmer who discovers that the members of his village are cannibals, won him the recognition of radical and especially leftist writers and activists both for its accessibility and revolutionary themes. Bucking the traditional academic style, Xun's use of vernacular Chinese made it an instant classic. The realism and grit of his style, something so lacking in the work of his contemporaries, continues to shock and inspire writers and readers to this day.
The story itself explores Chinese society through the eyes of an ideological heterodoxy, stripped of sentimentality. Thus, the main character's "madness" only appears as such because it runs counter to the rest of his village. The cannibals remain "sane" while the only person trying to stop them becomes more and more panicked.
Upon discovering the plot, he explains to his brother that "probably all primitive people ate a little human flesh to begin with. Later because their outlook changed, some of them stopped … But some are still eating." Hearing this, his brother merely "smiled cynically." As the protagonist continues, and others begin to eavesdrop, the brother's smug superiority turns to anger.
"They want to eat me, and of course you can do nothing about it single-handed; but why should you join them? As man-eaters they are capable of anything. If they eat me, they can eat you as well; members of the same group can still eat each other. But if you will just change your ways immediately, then everyone will have peace."
Outside the gate stood a group of people … all of them eaters of human flesh. … Some of them thought that since it had always been so, men should be eaten. Some knew that they should not eat men, but still wanted to; and they were afraid people might discover their secret; thus, when they heard me they became angry, but they still smiled their cynical, tight-lipped smile.
Suddenly my brother looked furious and shouted in a loud voice: "Get out of here, all of you! What is the point of looking at a madman?"
Then I realized part of their cunning. They would never be willing to change their stand, and their plans were all laid; they had stigmatized me as a madman.
Xun here creates an extremely effective allegory for class struggle and asks the question of reform or revolution.
"They want to eat, and of you can do nothing about it single-handed." Here he describes the exploiter classes: the feudal lords, the bourgeoisie, and the imperialists. Owning state power, these exploiter classes, according to Marxism, exorcise dictatorial control over the working classes whose labor they receive the fruits of. Nothing can be done against these systems as an individual. Only class struggle and the unity of all workers, the peasantry and the proletariat, and, in the case of imperialism, the oppressed national bourgeoisie, can bring about the kind of systemic change necessary to liberate society.
"As man-eaters they are capable of anything. … members of the same group can still eat each other." Just as one cannibal can still eat another, the exploiting classes are no more merciful towards each other than they are towards the exploited classes. The British imperialists had more in common with their class counterparts in China than Chinese workers. This didn't stop them from oppressing both.
As he urges his brother, "if you will just change your ways immediately, then everyone will have peace," we see the question of reform or revolution addressed. Will the exploiters just change their ways immediately? Of course not. Naturally, when asked to simply stop eating people, the brother "only smiled cynically, then a murderous glean came into his eyes." Though perhaps not mad, the protagonist is certainly an idealist, hoping to merely convince the cannibals to give up their entire way of life, to convince the exploiters of committing class suicide. This idealism is quickly thrown into the face of the protagonist, who is told he's a madman for even addressing reality. Though he persists, urging the cannibals to "change, change from the bottom of your hearts! … You must know that in the future there will be no place for man-eaters," his appeal falls on deaf ears. While he wastes time trying to appeal to the cannibals to change voluntarily, he alienates himself all the more from those unsuspecting people who could actually save themselves if they understood the danger they were in. Tragedy strikes as the brother kills and eat his own little sister a few nights later.
The story ends ominously with the realization that the protagonist too may have eaten his sister. "I have only just realized that I have been living all these years in a place where for thousands of years they have been eating human flesh. My brother had just taken over the charge of the house when our sister died, and he may have well used her flesh in our rice and dishes, making us eat it unwittingly." Xun thus elucidates the dialectical materialist understanding of social consciousness. As Karl Marx writes, "It is not the consciousness of men that determines their existence, but their social existence that determines their consciousness." Anyone existing in class society will undoubtedly be exposed to and influenced by the ideology and consciousness of the exploiter class.
There is still a glimmer of hope, however. "Perhaps there are still children who have not eaten men? Save the children…" Ultimately, it's the next generation that will be able to achieve the dream of a truly classless world, free from exploitation and its ideological remnants. Revolution will not be easy, but it's the only hope for the future, for creating a society of "real men", not "reptiles." As Mao Zedong puts it, only when "all mankind voluntarily and consciously changes itself and the world" can communism be reached.
Xun's stories are all allegorical and, despite the occasional artistic misstep, all achieve a level of clarity that few other artists have been able to, balancing message with sensibility more or less evenly. The fact that his very first published fiction, written after such a lengthy hiatus, was able to so eloquently get across a clear message while being both accessible and genuinely well written is a testament to Xun's diligence in study.
Other notable works include Kung-I-Chi, a critique of the Confucian educational tradition and ideology where the titular Confucian scholar, having failed the Imperial Exam, finds himself reduces to poverty and drunkenness before finally disappearing, and The New Year's Sacrifice, a moving and emotionally intelligent story which describes the patriarchal oppression of women under feudalism. His most well known work, however, is The True Story of Ah Q, a cutting satire of national chauvinism and overconfidence during an era literally dubbed "the century of humiliation." Ah Q's claiming of "victory" in the face of constant defeat and embarrassment, as well as his stubborn refusal to ask for or accept help, cleverly critiqued the blind traditionalism of the feudal ideologues.
Legacy
Upon his death in 1936, the Communist Party of China demanded the Kuomintang government give Xun a state funeral, lift the ban on his work, and erect statues of him in the cities he had worked and lived. As he was a prolific social critic and communist, these demands were ignored. Nonetheless, at the ceremony, his body was covered with a silk cloth reading "soul of the nation."
To this day, Xun's work is like Shakespeare. Names and quotes from his work are used regularly in everyday conversation and he is widely regarded as not only one of the greatest Chinese writers of all time, but one of the greatest writers of the twentieth century in any language. From his childhood home to Shaoxing to the shops he frequented while in Japan, Xun is celebrated across eastern Asia as an intellectual giant.
Some confusion remains, however, over whether Xun was genuinely a communist. Much of this is due to the contradictory invocation of his name and legacy during the Great Proletarian Cultural Revolution. On the one hand, his achievements were being proudly upheld while, on the other, artists with similar styles were being persecuted. Moreover, clashes between Xun and the Party over literary policy were being purposely overlooked by Mao and his supporters.
Today, with order long having been restored, the Communist Party of China maintains that he was in fact a loyal communist. Though he butted heads with the Party at times, putting out the slogan "People's Literature of National Revolutionary Struggle!" in opposition to the call for a united front with all anti-feudal, anti-Japanese forces, he remained true in his conviction that the communists were the greatest chance for China to regain independence and strengthen itself. He was still at heart a student of the May Fourth Movement. After the Red Army completed the Long March in October of 1935, Xun personally telegrammed the Party Central Committee, writing: "In you lies the hope of China and all humanity." This admiration was mutual, especially for Mao who crowned Xun the "chief commander of China's cultural revolution."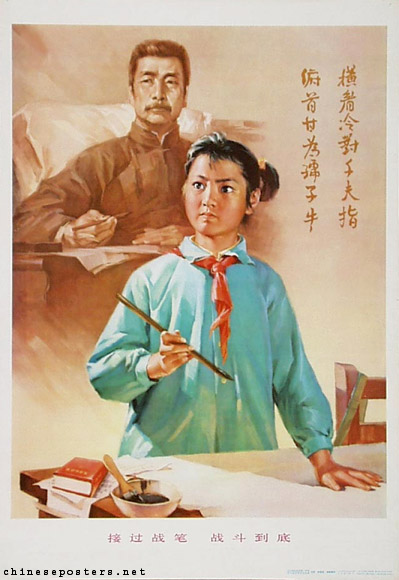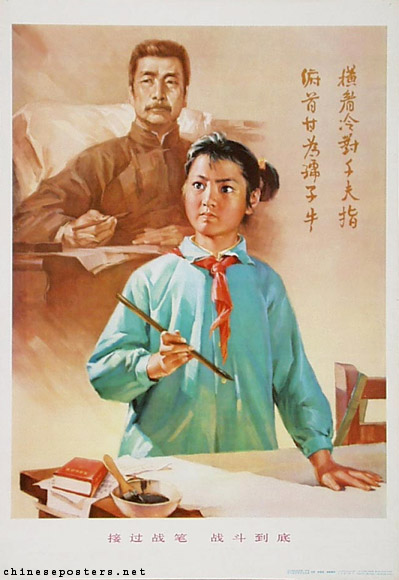 Artistically, Xun exhibited every trait a communist must. Marx once said: "The philosophers have only interpreted the world in various ways; the point is to change it." Few artists have put these words into action as well as him. Xun boldly stated that his mission was, above all, to radicalize and galvanized his readers. In the preface Call to Arms, he writes:
I no longer feel any great urge to express myself … I sometimes call out, to encourage those fighters who are galloping on in loneliness, so that they do not lose heart. Whether my cry is brave or sad, repellent or ridiculous, I do not care. However, since it is a call to arms, I must naturally obey my general's orders.
As the Peking Review would later write, "He broke completely with old traditions and old forces. … he had not a moment's regret for the death of the old world. He repudiated the old world in the most merciless way. The force of his pen was such that the enemy was vanquished wherever it pointed." In all his work, he rejected dogmatism and flunkey-ism while expounded upon dialectical materialism and critiquing society in such a way that could reach out and educate even the least educated. It's this steadfast resolve, down to earth nature, and willingness to speak the truth that all writers, not just Marxists, should learn from and adopt.